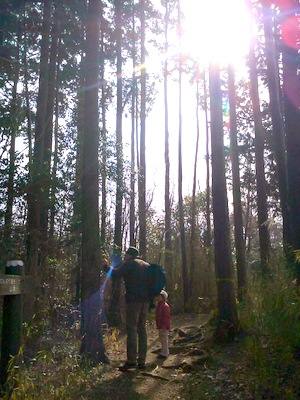 Dear All,
January and February are rather unloaded in our garden
with some general works to be done. There is a preparation
for the spring potatoes at an old site,
which I used to terrace for better cultivation.
For two years it was fallowed, because we had too much land to handle.
But I decided to revive this plot because the soil has become so softened
by the fallow that the choices of potatoes
and zucchini probably will easily thrive on.
There are several important sowings at this time of the year;
I am very keen on various garden peas, broad beans,
early spring Riccia spinach, French corn salad, candlelight radish,
Nantes carrots, curly lettuces, suitable beet varieties,
perpetual spinach and many types of spring leeks.
Now the conditions are very difficult to sow small seeds,
since the nights are always dropped very much below sub-zero,
so the soil in the morning gets `frozen out`
lifting the roots out of the ground of young seedlings.
I am trying to avoid this problem by protecting with fleece,
mulching and less watering, which all reduce the damage
of heavy frosty nights.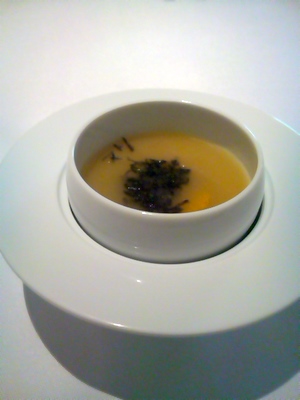 Now the food. I had not been at
Ca Sento
at least for a year for dining.
Since then much has been change.
The whole staff has been replaced, except the sommelier lady,
Miho Chan.
The diner menu had 20+ courses, in fashion of Ruperto de Nola,
the 16th century Catalan chef, with great concentration of few ingredients.
So it would be rather time-consuming for me to give you a detailed analysis
of the whole menu.
I highlight here 6 unbelievable parts only.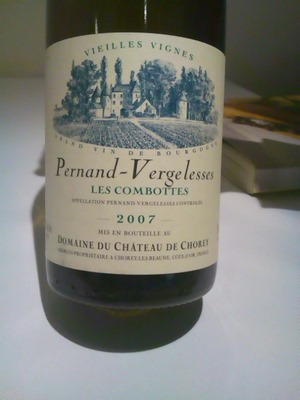 Shinya`s starters are always strong contenders,
and in fact they should always capture the heart of lucky customers.
This time the Spanish pizza surprised me with its sophisticated layers
of cured beef and pastry.
The second one was a 'soup', Shinya`s patent
where one is to search for up-beating notes of fresh root vegetables
but later chilled off with earthiness of minerals.
Last years duo was salsify with shitake,
this time the simplicity ruled and the sole Jerusalem artichoke was used,
the skin was grilled and the inner part was creamed...
What a shock of contrasting flavours and textures of the same plant!
Really black and white…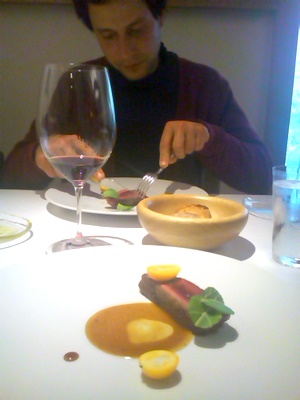 The main courses had lot to boast,
I especially recall the oyster pie and fishstock-Jerusalem artichoke puree.
Shinya`s fish dishes have many sides to boast;
the right cooking time, serving temperature, salt control and oiliness.
The sea bass was again perfectly cooked with crispiness at every side,
the matching negi-sauce`s sweetness softened the fish the crunchiness
of the fish, leaving beautiful structure in the mouth.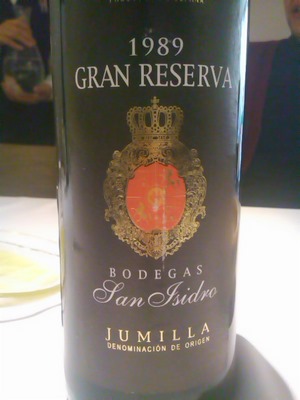 The Peking duck (made of Japanese hunt)
with soy sauce and small long Japanese tangerines (kinkan)
also was a fantastic treat,
the intensive flavours were somehow perfectly
balancing the mildness of the duck.
A holly experience and should be drunk with a kind Merlot.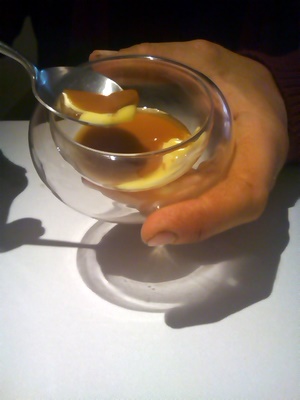 One of the desserts was a Japanese tangerine
(but round type, mikan) again using the grilling technique produced an amazing smoky jelly and pudding mix; a memory equals
with our first summer trip to Lake Balaton with my sweetheart,
simply unforgettable!
Shinya`s genius could come through these 6 plates,
all of them signature dishes, so simple yet original cooking
with pure art which I cannot ever stop appreciating!
Music:
Paco de Lucia: Entre dos agues (1976)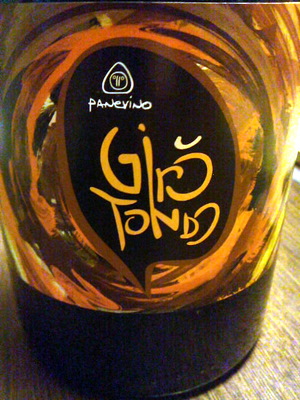 Dear All,
Today`s wine is so unconventional,
that I could stop writing its description right here and right now.
Is it really a wine, we indeed need to pose the question.
This Sardinian wine presents 17 percent alcohol.
The wine is hand bottled and hand-numbered.
A real manufactory wine. The drink is non-filtered by looking at it,
and does have little red pigments which make it transparent,
but cloudy purple. The wine shows a great body
without any intensity of colours.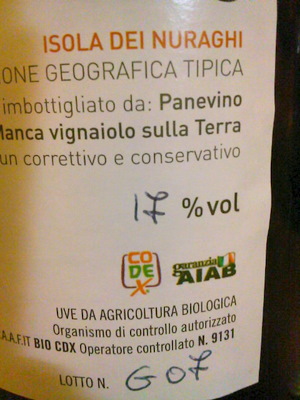 The fragrance is intensively magnifique and fantastic.
The various over-ripen, sun-dried and jammed fruits play the key parts.
It is a real treat to note the jam of following, always changing fruits:
plum, quince, cherry, mango and dragon fruit.
These warm and oily fragrances are supported in the background
with cinnamon`s spiciness.
The taste continues the jams, moderate sweetness
with medium finesse of bitter, herblike sensation.
The minerals are rather missing, but the grapes are grown on lime soil,
so there are other things we can search in this wine: there is an amazing peacefulness of balance concerted between high alcohol and sugar,
light tannins and lively acidity.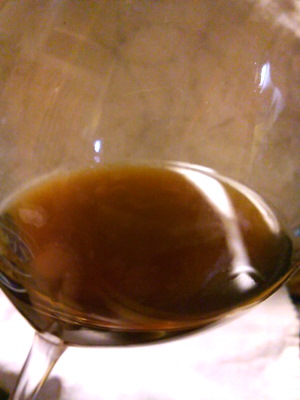 The empty glass radiates out the notes of cashew nuts
and dried blueberries. Very elegant and light, reminds me those
and better older generation of Tokaj Maslas back in the 1990`s…
Sardinia must deserve more attention; it is now high time
to discover the oldest part of European viniculture with great care.
Andi, is a good friend of me stocks this wine in his Motomachi shop, Kobe.
If you are interested in non-conventional wines,
then Andi is a superb expert on the subject.
This Ginafranco Manca wine needs to be explored very patently,
like when we read a Jasunari Kawabata novel…
Highly recommended but should be drunk within two years.
92 points.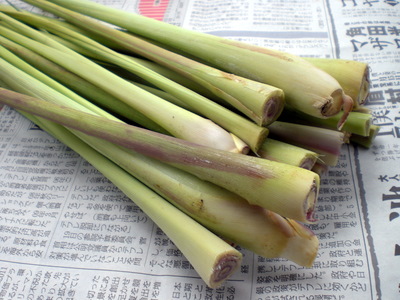 今週末はお天気が荒れそうですね。
真冬にレモングラスのお話もなんですが、
真夏のおまかせBOXでお届けした
生のレモングラスを冷凍してくださっているみなさまへ
参考になれば嬉しいです。
寒いときこそ
エスニックな気分で盛り上がろうじゃありませんかー!
まずはあったかメニューから。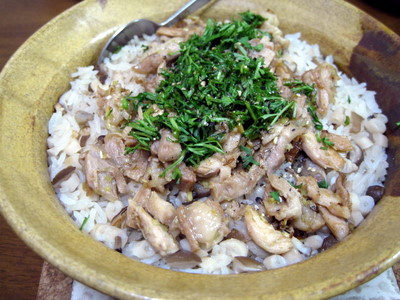 千葉県のSさんより
レモングラスとチキンの炊き込みご飯
まず鶏モモ肉をブツ切りのレモングラスと一緒にゆでます。
そのままさまし、冷めたら手で裂いておきます。
にんにくのみじん切りを炒め、
香りがしたら洗ってざるにあげておいた米も入れます。
米に油がまわったら、野菜も入れてさっと炒めます。
鶏肉のゆで汁を使って、ご飯を炊きます。
味付けにヌックマムとタイのシーズニングソース
(おしょうゆでもいいと思います)
砂糖を少し入れます。
ブツ切りのレモングラスも。
レモングラスをみじん切りにし、炒めます。
香りがでてきたら、鶏肉を入れてさっといためます。
ここにもすこしシーズニングソースを。
ご飯が炊き上がったら、こしょうと鶏肉を混ぜ合わせます。
みじん切りは根元のほうで。
ブツ切りは葉のほうを使いました。
レモングラスの香りがふわぁぁぁぁっと広がる、
レモングラス好きにはたまらないご飯です。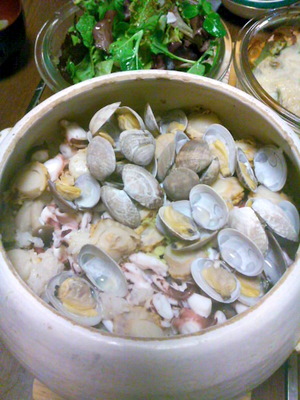 我が家
レモングラスたっぷり入りタイ風パエリア
材料
米(水の量は少な目で)
玉ねぎ 有頭海老、イカ、アサリ、パーナ貝 
レモングラス茎生 
にんにく
あればグリーンピースやコリアンダー
レモン
調味料
ナンプラー 
サフラン1つまみ
作り方
パエリアパンか、フライパンを火にかけ油をしき、
にんにくを入れ香りを出す。
玉ねぎをよく炒め、火が通ったら、米も一緒に炒める。
一旦火を止め、調味料を入れる。
平らにし、強火にかける。
沸騰したら弱火にして、
海老、イカ、アサリ、パーナ貝、レモングラス茎を並べ、フタをする。
水分がなくなった感じになったら火を止め、
グリーンピースを入れ15分蒸らす。
仕上げに、コリアンダーを散らし、
レモン汁を絞りながら頂く。
兵庫県宝塚市のMさんより
レモングラス入り菊芋のソムタム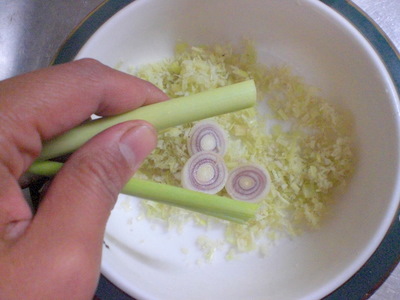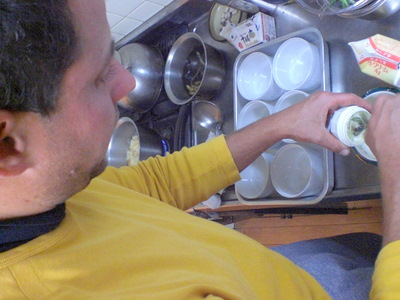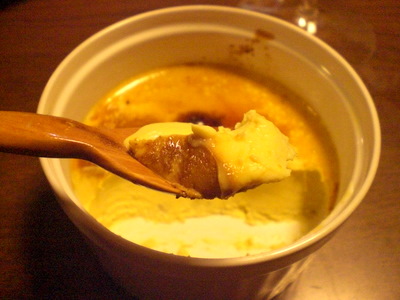 レモングラス風味のクレームブリュレ(ギャリ作)
その他トムヤンクンやグリーンカレーもいいですね。
おまけですが、毎年取り寄せている
広島のほうで育つフルーツのレモンは、
今期も2月から3月あたりが旬を迎えるお知らせを頂きました。
魚介類がおいしい寒い季節、
レモンを常備しておくと楽しいですね!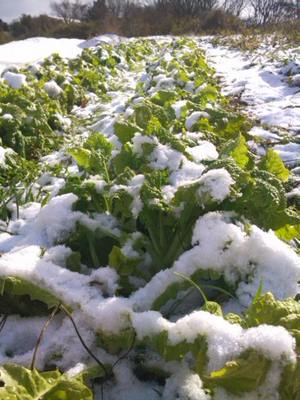 こちらは、
大晦日から雪景色がみられることもあり、
霜の降り方もハンパじゃなくなってきました・・
一般の畑はもう端境期に入る時期で、
寒い=何も育たない
と考えられていることが多いようですが、
雪が降っても色鮮やかに咲き続ける
ビオラの花や、冬つばきの花、
蕾を膨らませる小さな梅が存在するように
足元に目を向けてみると以外に
今だけ青々として甘みを増しながら成長する
ベジ&ハーブが多くあるので世話をするのが面白くあったり
雪をかきわけて収穫できるから困ったものです?
ちゃんと防寒さえすれば、
静かなガーデンに立つと気持ちよくて
真夏なんかよりずっと思考がさえるし、
ベジ&ハーブの鮮度も味もいいので
ついつい長期休暇をとらずに
春を迎えてしまいそうになっています。
(2月しか実現できない海外行きは
譲らないと約束していますが、今年はどうかな??)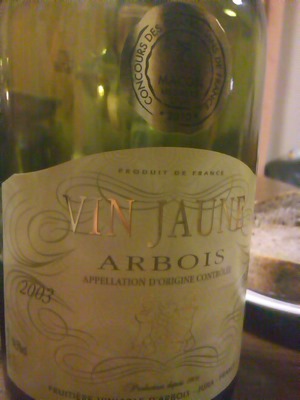 先日はフランス
Franche Comte地方のArbois村にある
Hotel Jeau Paulのレストラン
でお仕事している
Chiakiさんが一時帰国され、
昨年に続き、GG FARMに寄って下さりました。
昨年も極寒の中、
フランス料理にも大活躍する
ソレルや、チャービルを味見しながら収穫して下さったのですが、
今年は雪ノ下に埋もれている
プランターゴ(英・Plantago)や↑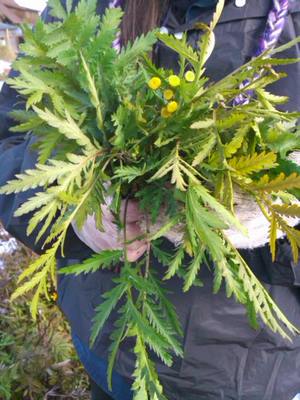 ヨモギギク(英・Tancy)を↑
フランスでの旬、使い方を
お話してくださりながら収穫くださりました。
特にPlantagoは、雪に包まれてから
クリスピーになり、
甘みに加えてナッツのような風味が出てきています。
Chiakiさんのレストランでは
森の中で収穫されたPlantagoを
天ぷらにして鴨にあわせるそうです。
大量に収穫できる秋と春は、炒めて使うこともあるとか。
Tancyは、乾燥させて
プードルにし、子羊をロール状に蒔くときに使用し、
オイルベースのマリネにしたり
チョコレート菓子にあわせたり、
牛乳に香りを移し、アイスクリームに使うそうです。
昨年に和のおおばこやヨモギが
雪ノ下でも青々と育っていたのをヒントに
フランス野菜の歴史と料理からアイデアを得て育てた
Plantago&Tancyですが、
今年はレストランさんでデビューできる予感です☆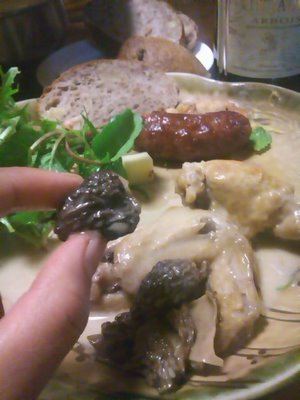 Arobois村の郷土料理
Arboisワインと野生マッシュルーム、チキンを生クリーム煮込んだお料理
お土産で頂いたワインやチーズ、
フランスの暮らしやワークスタイル、自然の話、
即席で作って頂いた野菜タップリパスタの晩餐でした。
Chiakiさんありがとう!
次はフランスで会いましょう!!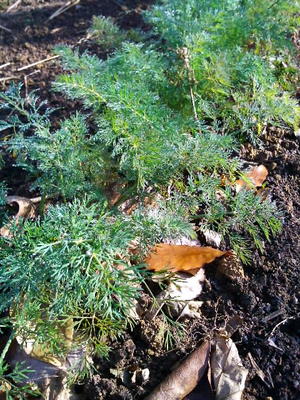 Dear All,
Recently the westerly cold snap which has been sweeping
through Japan forces me to stay home with my beloved.
But as each day is another day, sometimes I still manage to sow seeds
(when by accident the soil temperature eases above freezing point).
What can you plant in such harsh condition,
which will sprout slowly but successfully?
Just think. Obviously we have a Nature, Natura naturalis, in front of us,
just learn how to observe it with great detail,
then you might be able to mimic it in your plot.
Each type of seed emerges under different conditions
which via Darwinian succession make up a flora of a particular area.
Of course there is a large variation
of an actual flora due gross annual changes in climate.
This year for example Japanese thistle (Cirsium japonicum)
simply infested the meadows in our eco-niche,
due to the rainy and very cool spring,
which was vital for the thistle seeds for outstanding emergence.
Therefore my hypothesis is that we should attempt
to search for particular wild or cultivated plants which would perfectly emerge
in very cold conditions.
I already gained some encouraging results.
But plenty more to research…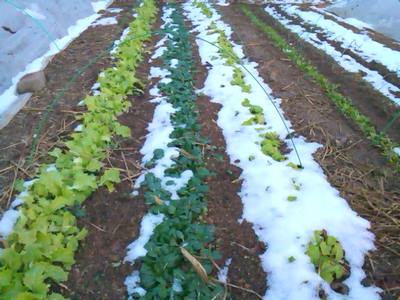 The holistic gardener never stays within the burden its operational space
but wanders the outside world with cautious awareness.
But beyond all observations, conclusions and designed plans for trials,
there is a profound necessity to connect all these experiences
in the garden with the gastro realm,
where human senses ought to be pleased with positive impulses
by for instance smelling unusual reminding fragrances,
chewing interesting structures or just enjoying a profoundly complex flavour….
Soon we are getting close to something
which completely lost its relation to vegetable gardening.
This disconnection was basically the reason which killed the liveliness
of vegetables and herbs.
Medieval gardens as I often have mentioned were welcoming homes for multi-functionality and multi-activity.
They hosted free space for herbalists, horticulturalists
of all kind from fruit to vine growers.
By the end of the day when the well-deserved feast crowned the work
of all from the garden through the kitchen and the serving room,
the whole table was served to fire up the fantastically utopist conversations over vintage, flavours and food and drink pairings.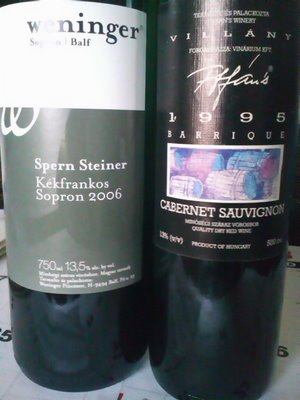 What we have left now at the beginning of the 21 century is the wine artisanship,
and maybe cigar-making and some obscure fishing and hunting plots,
where everything is under the constant evaluation of those human senses…
I chose via my passion for wine, the wine to learn from.
My first question, which gave birth to the higher level of understanding plants,
was why my plants in the garden do not taste like natural wines,
which have delicate balances of acidity, tannins, sugar, extracts etc
and deliver such pleasure to body and mind which nourish the well-being
of the human nature.
The grand question left me with numerous sleepless nights.
Why my plants are not like great wines?
What have I been doing so wrongly that my plants have strong appearance
for the senses, but missing the wholeness of a good wine?
To be honest, I often have a sense, when I drink let`s say a Spern Steiner 2006
from jun. Weninger, or a Tiffan Cabernet sauvignon 1995 barrique,
these artists help to make me universally cheerful about the world.
The enjoyment of such wines, just like something very extraordinary,
goes well above what we can day to day imagine to nourish ourselves
and help us distinguish between `food A` and `food B`.
Since those nights, which were about my re-reading Kierkegaard`s Either/Or,
things have been very differently viewed in the garden.
The joy of being with the plants and the parent-seedling relationship
between us have both improved dramatically. I communicate
with them day to day with the tool of my mind, although you may think
I am just a crazy man…The plants reacted directly and commenced
to grow slower than before.
Also they are smaller than before, but the leaves become coarser
and densely packed showing greater frost-resistance and vitality during bad weather. Of course the most important is they started to behave
like natural wines for our rational/emotional well-being!
For further course on this inter-galaxy trip please visit:
Jamiroquai: Blow your mind (Emergency on Planet Earth, 1993)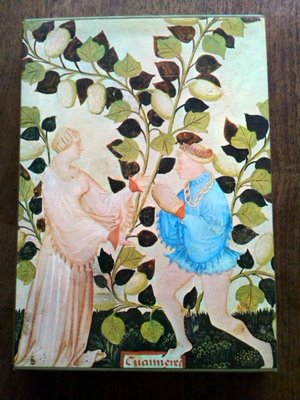 Dear All,
I am closing here this supra-turbulent and extracurricular year
with a book recommendation.
This is not really a book in a sense as we would imagine today.
It is a codex which brought breakthrough to all European societies,
originally transcribed by an Arab doctor,
Ibn Botlan, in Malaga during the 11th century.
Through studying history, as it has become my latest humorous hobby
for the cold nights, so many extraordinary thoughts seem to be revealed…
Not only geometry and Arabic letters we inherited in modern Europe
but …thanks to the Arab culture through Persian merchants
(think of the spice roads alone introduced Asiaa
and African wild flavours to the European tables)
or through Morocco which brought immense knowledge
about Nature and its usefulness to us. Now we,
Europeans simply all ignore those grandly important gifts from Arabic cultures.
Tacuinum Sanitatis covers all everything
which we all have thrown out from the window.
At that time people valued things we do very rarely care for nowadays.
Think of the well-cut and dried wood for roasting
or warming moderately up the room.
Or those archetypal fruits with pungency like quince,
pomegranate and medlars or fantastically bitter herbs like rue,
wormwood and horehound all played a central role
in the Medieval Asian/European gardens! Fortunately enough,
modern chefs and good house-keepers are waking up
from the dream of torso of la cuisine moderne…
and getting hungry for original flavours.
Is it a new movement of Ferreri`s La Grande Bouffe?
Obviously there is a similarly immense respect for the extraordinary home- and handmade produce with identity as in that film from 1973.
Just check out Jamie Oliver, Marco Pierre White or Gordon Ramsay
and their menu lists: most forgotten intensively flavoured plants
and animals are on.
All of these geniuses cook with that deliberation
of the Arabic sense.
They cook not simply Italian, French or Spanish,
but as all of these cuisines they were born from the Arabic culture,
they cook Oriental.
I highly recommend for 2011 this codex,
which was highly popularized in Europe in those Medieval Times,
when good living was not yet eating with silver spoon
but combining good tasting ingredients and roasting the dish
on the right type of charcoal.