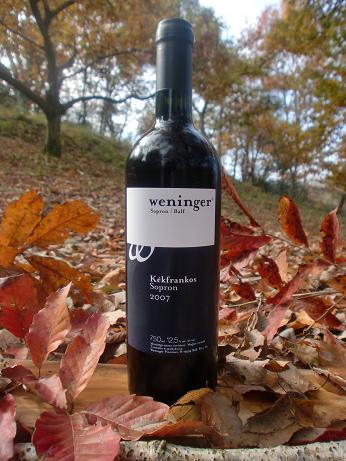 Dear All,
This is the third wine in row to be introduced here on our blog. After being so lucky and having enjoyed few hundred Kekfrankos bottles from jun. and sen. Franz we had to pull the emergency break by arriving at this wine.
Jun. Weninger, a full-time experimenter prepared this wine with an unusual combination: 2/3 of the wine was aged in classic large oak barrels and 1/3 was resting in ceramic tanks for 10 months. As the global climate change warms up the Pannonian Plateau at Weninger terroirs, the Mediterranean effects commence to kick in by bringing in ceramic tanks, an ancient Minoan invention for ageing wines. According to jun. Weninger the resonance of the ceramic material lands a fortified impulse to the stored wine. Let`s see how!
If someone knows Kekfrankos grapes from previous wineries, will be surprised to notice how deep this wine has purplish red colour with ruby glances. Certainly deeper wine than its 2006 brother, despite the 2006 vntage was far better than 2007! As the grapes become more biodynamically cultivated, the Kekfrankos grape skin has been dramatically getting thicker and thicker year to year. The wine is of medium body.
Moving the wine shows a strongly fruity of sour cherry and medlar with signals of spicy nutmeg and cinnamon notes, all very characteristic to the teenage Kekfrankos wines. Letting it rest in glass for decantation does not yield a constant fragrance pattern, but still childishly dazed and robustly changeable reminding me the English weather!
The taste offers much more basis for communication with the customers, who can enjoy its creamy caramelized and vintage honey long aftertaste being very exotic to young wines like this. The acidity, as we got used to, is strongly supportive to the tannins and extracts. There is some orange zest with the sourness while chewing the wine in the mouth.
What veggies would match with wine this time of the year? The wine is very much in a creation process in the bottle now, so we should not consume it with similarly wild flavoured vegetables and spices. Avoid now cima di rapa, red skin potatoes, horseradish and sorrel for a moment. Best try could be any sorts of oriental vegetables which go very sweet and tender after the heavy frosts the garden witnessed in the last two weeks. Give a try a with the smooth flavoured nanohana, mizuna thinning for instance. Another try could be Jerusalem artichoke…or for your salad bowl a very fine tasting purple lettuce or corn salad. For dressing it would be suitable to offer a cumin mayonnaise or sesame seed vinaigrette.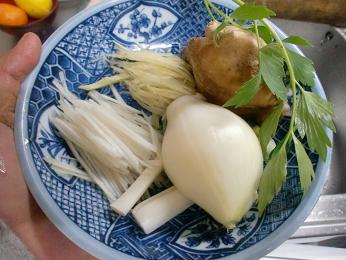 This wine is a character of young people, it is a wine which reminds us to our young and hippy-like teenage times, when we were all Rimbauds, Verlaines, Aragons and Bretons in those pubs. The structure of the wine has still not shown any level of organization, yet to come. The ceramic tank I think is still not comparable yet. On the other hand it is a very enjoyable wine with the careful match of vegetables whoever wishes to recall the times, when we were all so boheme and free to do whatever. This wine has an ageing potential between 8-10 years, less than its 2006 brother (more than 15 years) due to the less qualified vintage. At this stage I give to its dynamism:
86 points (out of 95)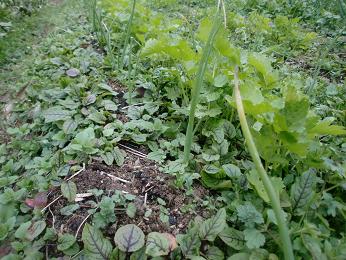 ☆2009年度よりお野菜おまかせBOXとハンガリアンビオディナミワインは、
GG FARM SHOPよりお問い合わせ、ご注文いただいております。
よろしくお願いいたします。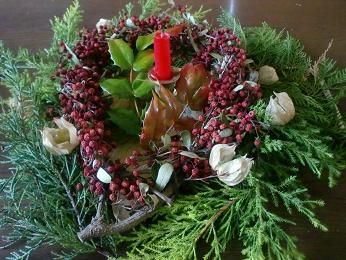 Dear All,
I hope that all of you safely survived the heavily frosted night recently.
We had some decent sub-zero degrees in the garden and even
the strongest winter hardy plants got a punch like borage,
cima di rapa, sorrel and celery. But this morning the weather
was normalized with a warm and peaceful shower which should
regenerate the growth of these victims. Such cold weather can alter
the flavour of the vegetables in both directions, for instance
some brassica plants become sweeter, meanwhile others such
as curly cress or radish leaves somehow deteriorate and loose their strength of taste.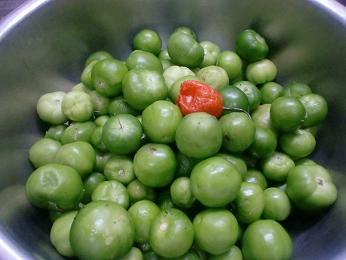 Anyway we managed this December much better than in the previous years,
when we always had certain troubles with providing a balanced variation
for our people. In my last blog entry this year I am going to summarise
the 2009`s results for you as ususal.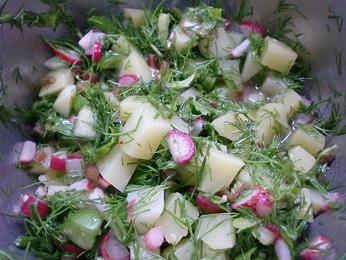 Now it has been a month since we received the winter wine collection,
so the bottles had enough gap to rest and show their real faces.
Tonight we opened a bottle of Pinot Blanc (or Feherburgundi in Hungarian) 2008
from jun. Weninger. This wine has won the golden medal in Germany
as the best 'sushi-wine'. So far also for us this vintage seems to be the most powerful in any dimension. It has stronger colours, larger body
but lower alcohol level than its proceeding brothers.
The wine reminds me some Rheinfall Riesling wines which we sipped calmly with Ryoko while staying and apprenticing in Switzerland. Yes,
somehow the soils are similar in both places with residues
of pre-historical sea creatures mixed with river carried minerals.
The only differences are that this 2008 wine owns a rock solid
and well-integrated acidity with unusual citrus notes.
It is a wine for any fish (as the German sommeliers rightly pointed out)
or a crispy and sour roasted chicken dish but it should be an excellent match
with a lightly sweetened mousse or sorbet too.
It is a real gastronomique wine because its food friendliness.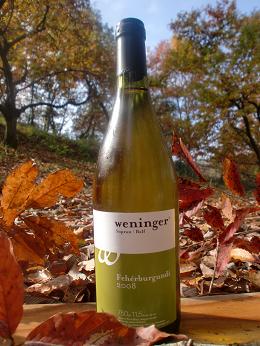 The last picture wishes you all merry and happy Christmas
with my brother, Joshua`s (or his artist name `Josh Corp') pen drawing,
which enlightens a beautiful volcanic mountain in Hungary called Somlo
(our dry botrytis wines are from that hill). He is only 14 years old
and hopefully he will also choose an artistic career just like his older brother me. Please enjoy Christmas and think sometimes of its meaning too.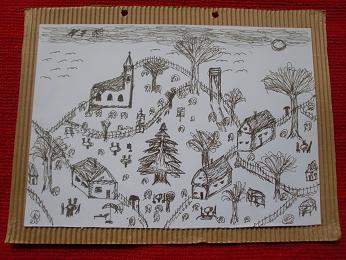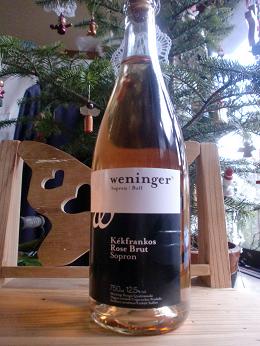 Dear All,
Being a delirious fan of Weninger wines from Sopron, it seems to be rather uneasy for me to write without exaggerated emotions about his wines.
In order to grasp the how-about to produce class-leading champagnes (I simply miss the branded and patented name of French champagne sparkling wine, just as the French and Italians do often label their wines with `Tokay` too.), it is important to know that plenty of acidity is required with high level glycerine content which land the creamy structure to the champagne. The classic grapes, Chardonnay and Pinot Noir are the main varieties for producing champagnes in France.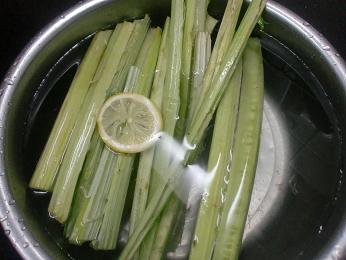 But as climate change has been hitting the doors of our real-world, these grapes, which have been mechanized, over-bred and manipulated for standard wine production, simply do fail to respond to such a drastic climate changes. In Spain it is predicted for instance that within 10 years Merlot grapes cannot be vinified any longer due to increasing abnormally high summer temperatures, which the Merlot grape cannot tolerate! Chardonnay and Pinot Noir are generally 3-4 weeks earlier harvested nowadays than a decade ago leaving the winemakers in a difficult position to balance out missing acidity or low extract contents for example. I expect that within few years the original Champagne area`s climate warms up so much that the original and very dear Champagne wine will simply impossible to make!
But other cooler countries such as England, Moldavia, Slovakia and Czech Republic and some Northern parts in Hungary will flourish in the right champagne making position as never before. Anyway the traditional wine regions are in deep trouble to pick up with some emerging countries which cannot stop producing the vigorously high standard local wines (just contrast an average French winery yielding 8-10,000 kg/ha grapes with jun.Weninger for instance, whose yield is 2-3,000 kg/ha only!).
Kekfrankos (Vitis vinifera orientalis therefore more acidic) is an unmodified vital, large and vigorous grape variety with very thick skin which resists most weather adverse effects unlike its weak and severely modified French and Italian counterparts (mainly Vitis vinifer occidentalis therefore sweeter). Kekfrankos loves the climatic conditions of the Pannonian Plains between Hungary and Austria enclosed by a large lake called the Ferto. There this grape has never failed to produce enough acidity and creamy texture for producing both excellent aging wines and champagnes!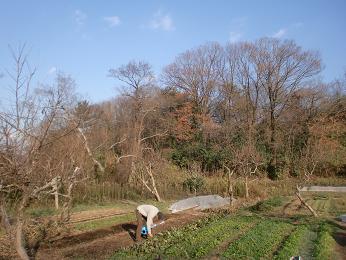 The 2008 Rose Champagne has a deep crimson and smoky hue with some redcurrant shades. The fragrance is very forwardly with caramel and lots of sun-dried wild berries. It owns much smaller bead than the 2007 vintage was, yet it consistently comes and comes. The acidity is much smarter here than its preceding brother was with fine notes of yeasts in the long finish. On the palate the creaminess is very long and consistent with the residual sugar`s caramel effect. This champagne is already very enjoyable now and will be so about 5 more years. Overall the wine is a relaxingly cool with a picture of the winter continental inland forest where you take the fresh air with fellows. The forest litter where you pursue your path lifts and warms up the cold mind and body.
A completely different vintage from its 2007 brother. It is considerably worthwhile to blow up a bottle for a home feast!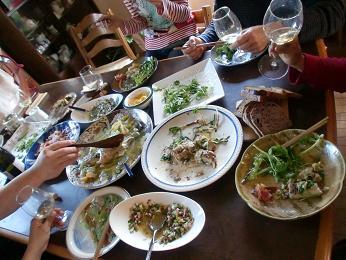 雑多なメンバーが集まって、
金曜の真昼からはじまったランチパーティ~
キッチンに立ったのは、いつものSブーコックとギャリです。
美食すぎるため、もしくはよすぎるライフスタイルのため、
体重100キロ近くあるSブーは、脂も好きだけど、野菜も大好き。
添加物は私生活でも一切禁止!していて、
天然ものの魚の価値や、野菜の本質、
ひとつのワインが呼ぶ波紋などを正直に言葉で表現してくれます。
そんな彼、
「たいていの人は、バーベキューでも最後に食べたいものは野菜なんですよ」
なんてことを言ってギャリの仕事をいつも励ましてくれてます。
そう、GG FARMをスタートした4年前、
チコリとビーツの栽培を応援してくれたのも、このSブー君なのです。
野菜がある料理は、
何かと下処理に手間がかかるぶん、会話も増えます。
昼間からワイングラスが似合う
Mちゃんも
ウキウキ、
野菜を生で味見しておしゃべりが弾んでいましたね~
野菜は洗って、適度に調理する手間が
肉や魚よりごまかしがきかない部分があるけれど、
タイムリーに手を加えてあげると、調理する側も、
食べる人たちも何か不思議な輪ができて雰囲気が和みます。かな。
農薬、化学肥料、除草剤、不使用なんてことはもう暗黙の了解範囲内で、
こんな日みたいに、それらの条件を超えて、
野菜が持つパワーを誰かひとりにでもメッセージが心に届けばいいなと
思うのです。
今日の料理は以下のような感じ、
野菜ひとつひとつ、とても幸せそうでどれも本当においしかった!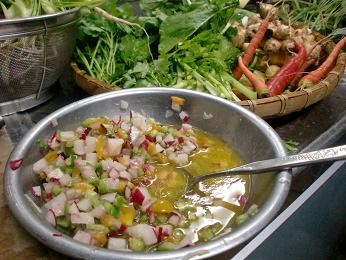 野菜のソース
ラディッシュ、トマティーヨ、ストロベリートマト、コリアンダーなどのみじん切りと
オリーブオイル、にんにくの摩り下ろし、酢橘、塩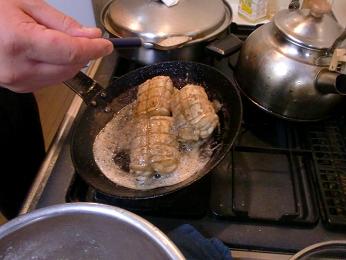 熟成させた大きな太刀魚を焼いています。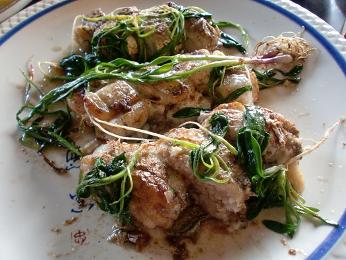 葉にんにくをアクセントに頂いた太刀魚
純粋な豚肉を食べたような食感でした。
改めて、太刀魚のこと分かってない私だわ・・・と反省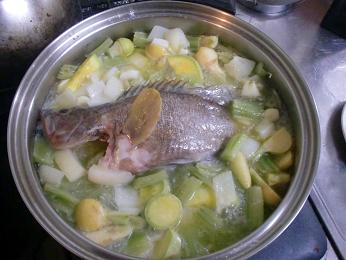 アコウとゴロゴロ野菜のアクアパッツァ
カールドン、玉ねぎ、バターナッツ、人参、にんにく等と一緒に
カールドンのあく抜きなしで調理しました。
調理途中、カールドンの苦味が煮汁全体にわたるのですが、
あるときを境に、カールドンの甘みと旨みが煮汁をまとめてくれました。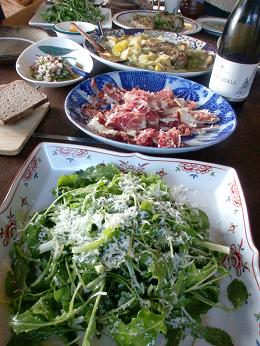 菊菜、ルッコラ、エンダイブ、チコリ、レタスのグリーンサラダ
白ワインがよくあいました。
ハンガリアンBIOワイン フルミント 辛口 (クレインバッハー ビルトク)
海のないハンガリーで育ったギャリ、
アメリカ、イギリスに住んでいたときも
おいしい魚に出会ったことがなかったので、
日本の健康な魚、自分の野菜、ハンガリーのオリジナルワインのコンビネーションに
ますます魅力を感じているらしい。
そんな彼の思いに拍車をかけてくれるSブー君の魚&野菜料理は今日も最高でした。
またワインの種類が増えそう(汗・・・)
ありがとう!!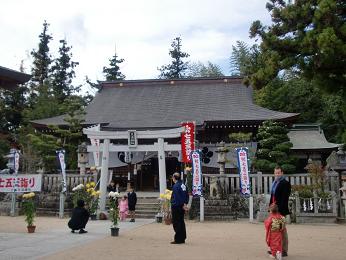 Dear All,
Today I had the opportunity to spend a morning with my daughter in her private kindergarten. Well, everything went so fine until the lunch time arrived. If you had watched Jamie Oliver`s Food Ministry programme on the Channel 4 in the UK or via the internet, then you would have not got so surprised what to see.
While we sat and ate with Viola`s teacher we talked about health and food issues related to the children there. Every classroom in average has 3 asthmatic and a dozen of allergic children. Because of these medical troubles the canteen kitchen must watch out each child`s diet from the egg to the gluten allergy. Of course there are many reasons why children develop allergic symptoms, but the environmental pollution and the chemical food production can be the major causes. Unfortunately due to the restricted budget the kindergarten faces, exclusively the very small children`s groups are entitled to eat and drink `more organically grown produce`. Viola`s group average age 3 eat easily prepared made of standard ingredients (you can only guess its pesticide residues and minimal nutritional value).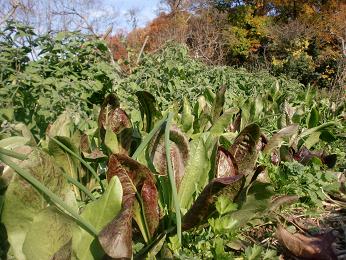 The lunch was really tightly based on a miso-soup (this time luckily containing pork meat otherwise plain soup), white rice, pickled radish, and only one small fish called sishamo. Viola`s kindergarten can be categorized as real an average in Japan, and just as Jamie observed in the UK (another `rich` and `developed` country), here also the kids` canteen diet lacks of enough fibrous food (such as whole meal cereal), therefore vitamin B complex. This diet is sadly poor in antioxidants and does not contain enough energy to supply a growing body at an age of 3 (this could explain why the little girl is always tired and very hungry each and every afternoon after we pick here up. For me the worst thing was to puzzle out: where the flavours have gone?
I have visited at least 30 countries in my life, my profound conclusion has always been that the richer a country is the less they spend on its children. For instance when I was a child in Hungary, the country was financially very poor, still state governed and basically run on socialist ideology. Therefore we children were regarded as very important actors of the society as being the future potential helpers of our nation. We daily received good portion of high quality locally farmed food and milk produce. We ate plenty of fresh fruits and honey based snacks so far I can remember. As you can probably recognize too that monetarily poor countries tend to be agricultural ones and vice versa. Wherever we traveled in my childhood we could enjoy the locally produced delicacies. Those 1980`s cows grazed flower-rich meadows and the fragrance of their milk daily made use enjoy drinking and drinking from the morning till the evening story time. I never encountered anyone having milk allergy that time!
To contrast an average meal in the kindergarten, 2 days ago for supper Viola took a big piece of raw Italian zuccherino chicory into her mouth and chewed the whole bitter leaf with enjoyment. Then why not to eat some whole meal rice with chestnuts? She just loves such things. Of course a large piece of fatty fish and fritted caroon were private choices of her to eat with the garnish rice. Then she had to check out papa`s steamed autumn potatoes and winter turnips too. A bit of hot paprika sauce was also added to cheer up the flavours. Then she recognized papa`s latest addiction, a leafy herb called erba stella (many chefs nightmare vegetable tasting very mushroomlike) on the salad plate, she just grabbed one leaf after the other with such a pleasure. The child almost automatically creates a nutritionally balanced diet just as a goat or sheep does on a natural meadow!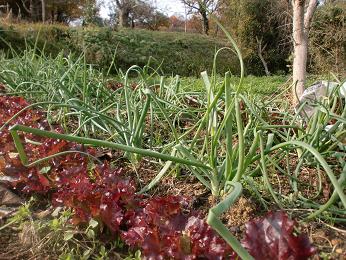 As you can see from such a dinner, children still have excellent tasting buds. The children unlike we adults think often do not like the neutral `baby-food` flavours. One chef`s a year old daughter eats at least a whole raw lemon with skin together every day! Kids adore variation at the table, and today I saw that all kids are bored to eat that neutral tasteless things in the kindergarten. Also as in the case of bitter chicory or mushroom-tasting erba stella which my daughter simply cannot stop eating raw, the chefs are afraid to add to their salad mixes that adult customers may find their taste `harsh` or `extreme`…
Today`s motto: let`s learn from the children, let`s imitate them, let`s pull our tasting buds out from the darkness and enjoy the variations the nature can offer us!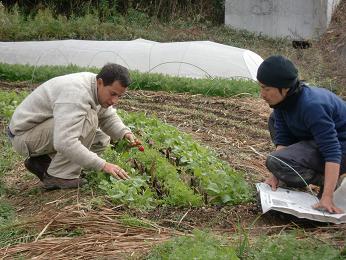 今年の夏から研修生としてアルバイト勤務を頑張ってくれている
GGジュニア、Jyunです。
グリーンフィンガーを持ち、
繊細なセンスのあるJyunの可能性を見込んだギャリは
今までにない学者熱、いや兄弟愛をあたためながら
自分のメッセージを伝えています。
高校生時代には、選手権に選ばれ、
フランス遠征などを果たした元サッカーボーイ、
大学生時代は、中高生の社会科目の
教師になることを目指し、教育実習&卒業後、
アジア諸国の放浪の旅を終え、
只今GG FARMで途中下車中です。
日々の食生活やライフスタイルを見直すことと並行に、
農作業とアートワークをどんどんスキルアップしています。
彼の素直さは、土や野菜、空気、もちろん私たちへも影響し、
GG FARMの波動が若く元気になってきています。
Jyun共々、どうぞよろしくおねがいいたします。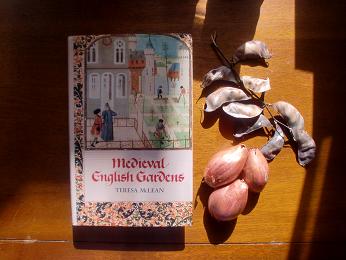 Dear All,
Since I received this book from the postman my mind has been
deeply lost in time…I have traveled back so much through an
unplanned journey of history that I feel being like
in my secondary school years, when the students still can benefit
from having freely formed ideas (at least true in the context
of the past Hungarian education system).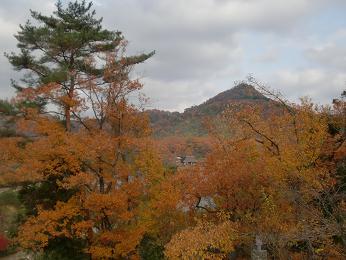 The testimony enlightens the mind via a detailed
but human-hearted descriptor of that epoch of Medieval
which we readers had owned very little before.
Teresa as a polymath historian takes a holistic programme
to examine the lifestyle and consumption habits of many strata
of that society from the fieldworkers` daily snack to the abbots`
pompous feasts! She then comes to generalise
that the pre-Medieval people were more likely to eat less meat
in their diet therefore more vegetables and fruits from the wild.
As agriculture gradually improved with the spread
of monastic movement throughout Europe in the medieval era the carp ponds
and farmed animals could supply substantially more meat
at the table than ever before.
The meat needed strongly scented and flavoured seasonings,
like bitter herbs and pungent spices.
The main vegetables were very starchy in order to dilute the fatty diet
and suppress unwanted smell.
Also monks delivered the knowledge of beer and ale production,
which required taste-improving and preserving herbs and spices too.
Most of those plants have vanished since pro-Medieval times
as Teresa argues, for instance the Renaissance broke up
with the spicy flavours of chicory and the starchiness
of caraway root in favour of milder and softer plants,
such as lettuce and carrots.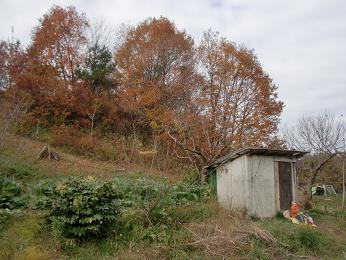 As a critique there are some bottlenecks in the translations
from the medieval old English to the modern one,
like `scariola` mentioned in old scripts is definitely not a English wild lettuce
but an endive now called `scarola`.
I also have some difficulties with Teresa`s generalization
of the Medieval consumption patterns, which would need
a deeper analysis to underpin with.
But overall Teresa does a studious and punctual scholarly study
on the matter.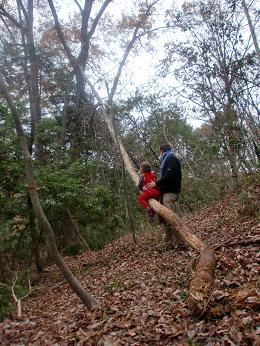 This treaty looks beyond those food patterns into the actual garden spaces,
which were highly diversified with planned hedges,
planted orchards, game reserves, fish ponds, leisure parks and
what the imagination allows us to dream of if we consider
that the medieval garden wished to imitate the Lost Paradise.
But nobody should think that those gardens could thrive
for or achieve a perfect recreation of natural habits
for the given local fauna or flora. Teresa observed
for instance that monks were keen on catching moles
and creating raised small herb patches with wide artificially pebbled roads.
Obviously these are definitely not that deeds which I would do
in my garden in the spirit of sustainable farming.
But still there are many ideas we can directly borrow
from those times such as those lost vegetable and herb species
or planting wind-break hedges and fruit-bearing trees into our gardens.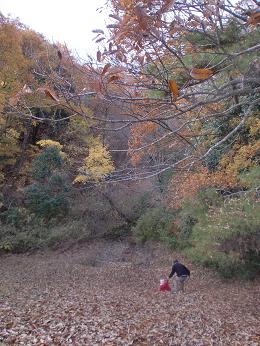 Teresa`s book is highly recommended to read and study
since it is very detailed yet easily understandable and
as a garnish of the Christmas holidays;
it is full of medieval natural happiness and wicked exaggerations
which kept those stone-walled cold and humid households somehow warm
and vivid with the little help of the quota of the daily gallon
of borage-hinted beer and 3 kilograms of cumin bread! Teresa,
it is a jolly good work to offer to the wider public!
GG FARM 
GG FARM SHOP 12月2日より12月30日まで期間限定オープンいたします。
(当店はネットショップのみでの運営になります。)
電話受付時間☆月曜~金曜日 10時~16時
TEL☆080-6122-1986(Japanese and English)
連絡先メールアドレス☆gg-farmアットマーク(@)siren.ocn.ne.jp
            Please send me e-mail .
            Kerem kuldjon nekem emailt .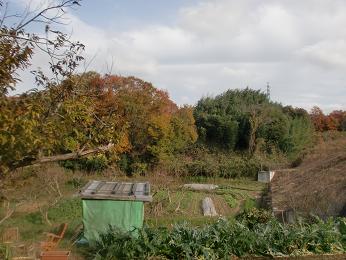 何故故に、ここまでカルドンに思い入れがあるかと言いますと、
三田の土地に立った時から、労力の範囲や土の質、自分が理想とする農業に
アーティチョークの栽培は相性がよくないと考え、(トライはしたものの)
それにかわる野菜を研究し始め、カルドンにたどり着きました。
アーティチョークの祖先といわれているこのカルドン、
昨年度はまだまだ暴れん坊の若い味だったのですが、
手伝いに来てくださったイタリアンコックの
Yさん(自宅でY工房を営まれている?)が、そのやんちゃなカルドンを連れて帰り、
オイル漬け、フリッター、葉の包み焼きを挑戦してくださり、
「アーティチョークと同じ要領で料理できますよ。
日本の軟水にあうように、調理前に、レモン水につければ大丈夫ですよ」
のアドバイスが、カルドン栽培へ拍車をかけたのでした。
それからというものの、カルドンの種を何種類も入手し、
バランスよく育ったカルドンの自家採種に成功し
(この種、昔はコーヒーのかわりに使っていたそうです!)
カルドンの繁殖?に成功しつつあるというわけです。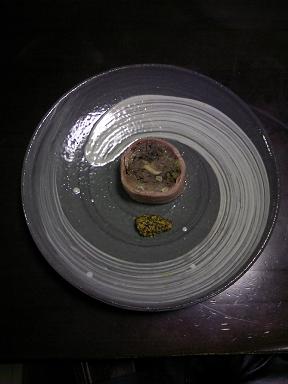 態度がでかいカルドンなので、レストランのキッチン以外で、
おうちキッチンでも活躍してくれるかどうかがとても心配でした。
三田のマダムでいらっしゃるHさんに、
「ちょっとカルドンで遊んでやっていただけませんか?」
と無理を言ってお願いしたところ、
その晩から何通りかの調理例を考え出してくださりました。
コレは、カルドンのテリーヌ!です。
育ち盛りの小学生のおぼっちゃんも喜んで食べているそうです。
ありがとうございます。
①クッキンググペーパーにオリーブオイルを薄くぬりローレルの葉を4枚並べる
②ペーパーの上にベーコンを約7~8枚重ねるように並べる
③カールドンをあく抜きした後、ボイルしてみじん切りにする(約一筋分)
④ベーコンの手前に牛肉細切れ100グラム程をおいて塩胡椒し、
その上にもどした干ししいたけのスライス7~8枚、まつの実大さじ1をのせる。
⑤更に同量の牛肉をのせて、塩胡椒し③のカールドン、まつの実大さじ1をのせる。
⑥更に同量の牛肉をのせて、塩胡椒する。
⑦手前からクッキングペーパーをロールケーキ状に巻いて端をキャンディのようにしぼる。
⑧170度のオーブンで30分焼いてその後一時間以上落ち着かせる。
⑨カットして粒マスタードを添えていただく。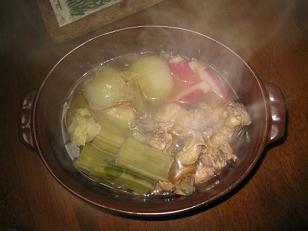 千葉のKさんは、
鶏の手羽先と一緒に煮物↑や豆乳で和風ポタージュを作ってくださりました。
当初カルドンに対面されたとき、途方に暮れたそですが、(ごめんなさい!)
「カールドンはクセがなくて何にしてもいいね」とのこと。
ありがとうございます。
東京の
Mちゃんは
、
ホームパーティーでカルドンをアクアパッツァに使ってくださりました。
調理に使えない、葉っぱはテーブルのデコレーションに。
こういうの見ると、うれしくなってしまいます~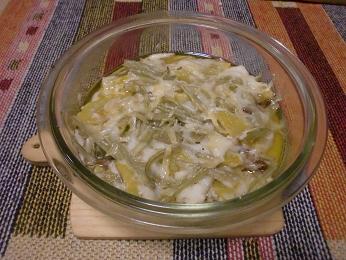 我が家では、うっかりあく抜きを忘れ、下湯でもせず、
菊芋と一緒に蒸し炒め後、グラタンに使ったのですが、
苦味も消えていないままでしたが、菊芋とホワイトソースの甘みとよくマッチして
Vちゃんも喜んでくれました。
最初、カルドンを煮ると、煮汁全体が苦くなるのですが、
そのあと、かるどんのうまみと甘みがじわじわ浸透して
まるい味に変化する傾向にあるようです。
カルドン速報その5は、
~純度化を高めるカルドンのフラン カセントさんにて~を
報告させていただきたいと思います。
・・・まだ続く・・・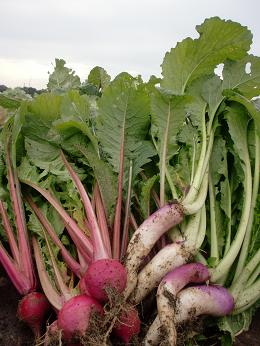 今収穫中のかぶら↑は、東洋系のものですが、
これから春にかけて、西洋系のかぶらが育ってゆきます。
今年は、東洋系のかぶらの根の部分より、
かぶらの葉のことを強調して感想を寄せてくださっています。
昨年度は、かぶらの葉の佃煮やふりかけを作ってごはんの
おとも的な存在まで位にしか使っていませんでしたが、
今年は、お寄せ頂いたアイデアで我が家にもレパートリーが増えました。
かぶらの葉のクリームスープ
ミネストローネ
チャーハン
餃子の具
ぺペロンチーノ
お鍋
ナムル
茎の筋を除いてサラダスティック
ラ・フランス食堂のYさん 
は、ピクルスにされて、
ホットドックに使ってくださりました。
葉のほうが、根よりも栄養価が優れていて、カロチンやビタミンを多く含んで
いるようですね。
霜が深く降り続けると、この葉っぱも弱ってしまいますが、
あともうしばらく、葉っぱ付きでかぶらをお楽しみいただけそうです。
もうすぐクリスマスに向けて
西洋系のかぶらがデビュー予定です。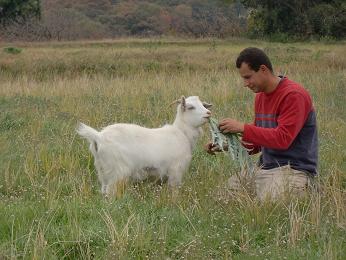 草&野菜のみ食べて、抗生物質、薬剤投与一切なしで
元気でベジタリアンなさくらちゃん。
カルドンの葉も大好きです。
そろそろボーイフレンドを求め始めたさくらちゃんです。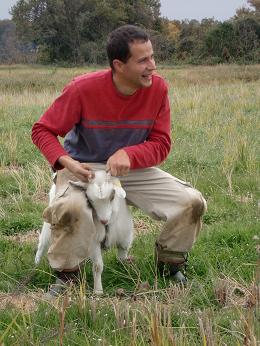 GG FARM 
GG FARM SHOP 12月2日より12月30日まで期間限定オープンいたします。
(当店はネットショップのみでの運営になります。)
電話受付時間☆月曜~金曜日 10時~16時
TEL☆080-6122-1986(Japanese and English)
連絡先メールアドレス☆gg-farmアットマーク(@)siren.ocn.ne.jp
            Please send me e-mail .
            Kerem kuldjon nekem emailt .